Shopping Cart
Your Cart is Empty
There was an error with PayPal
Click here to try again
Thank you for your business!
You should be receiving an order confirmation from Paypal shortly.
Exit Shopping Cart
The Brand Wellness Center - Enlightened Dentistry
A NATURAL HOLISTIC APPROACH TO DENTAL HEALTH AND WELL-BEING.
19 West 34th Street

Suite 1022

New York, NY 10001
| | |
| --- | --- |
| Posted on May 12, 2018 at 11:35 PM | |
Using activated charcoal for whitening teeth can be effective, at least, initially. Long term effects can be damaging. A recent study has just proven exactly what I have been telling patients for years. Brushing any abrasive substance (activated charcoal, bentonite clay, kaolin paste, diatomaceous earth, etc.) on your teeth may initially whiten them by polishing the discolored enamel, but eventually it will lead to an end result of harmful effects.
Activated charcoal toothbrushing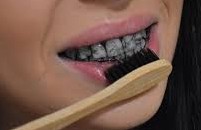 According to this study, the teeth may start out getting whiter, but with continuous use, the outer white enamel layer will be worn away (abraded), exposing the secondary layer of brown or gray dentin. The other concern with further use is the thinning of the teeth themselves, making them more translucent (thin and see-through), and ultimately prone to chipping, cracking or decay. As a side note, activated charcoal powder scores about a 70 to 90 on the RDA (Relative Dentin Abrasivity) scale, while most whitening toothpastes score between 100 to 200 RDA.
So when looking for natural ways to whiten your teeth, consider these parameters:
• Try Oil Pulling. See our post on Oil Pulling for further information.
• Brush with Baking Soda. It has a low abrasive level. It has a Mohs hardness value of 2.5 and an RDA (Relative Dentin Abrasivity) value of 7. See this chart below for Abrasive levels of different toothpastes. Also read our post on Baking Soda and Oral Health.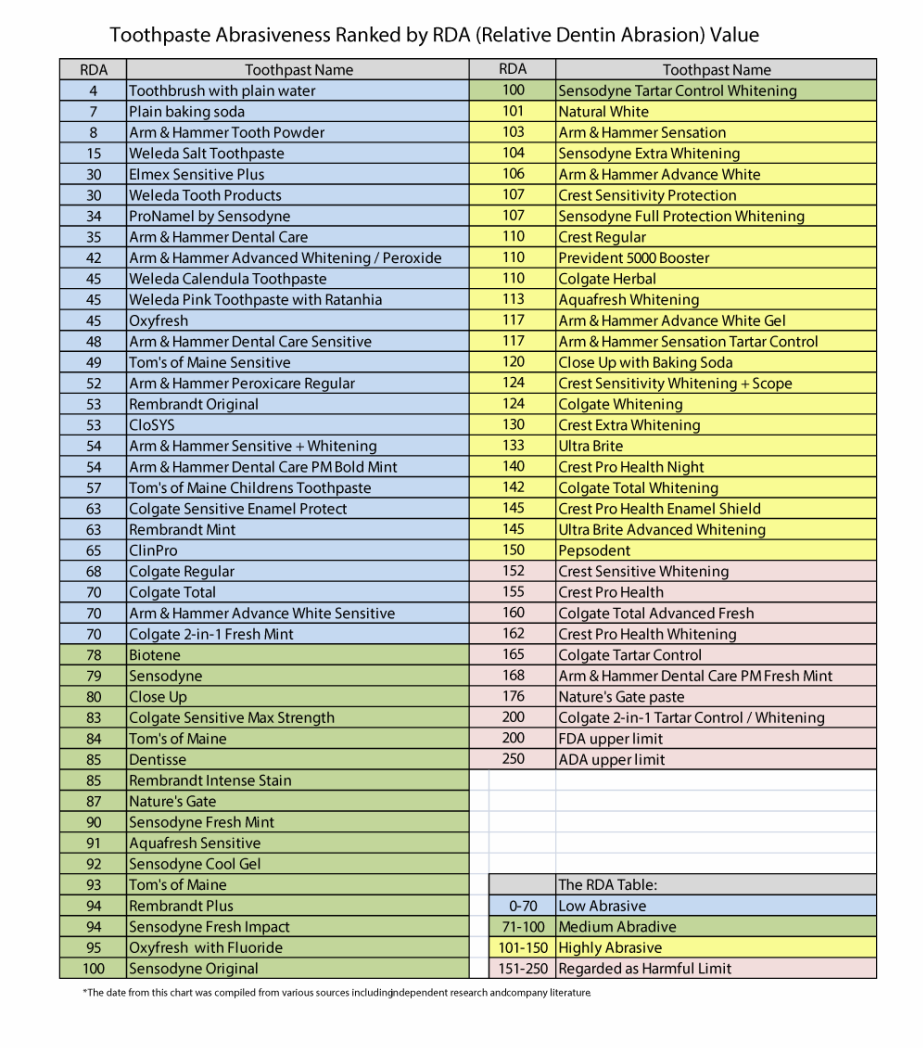 • Avoid staining foods; particularly coffee, tea and turmeric.
• Avoid smoking cigarettes or smoking anything.
• Eat fruits and vegetables to naturally clean your teeth.
• Increase mineral consumption to strengthen the tooth structure which will prevent stains from absorbing.
• Rinse your mouth with water immediately after consuming acidic foods.
• Brush and floss after every meal to remove staining food and acid buildup on teeth.
• Avoid excessive fluoride intake to prevent fluorosis (mottled staining) of the teeth. See our many posts on Fluorosis.
• Avoid antibiotics, especially Tetracycline in childhood. Tetracycline stain has been documented in causing irreversible intrinsic staining in developing teeth.
To answer our original question about activated charcoal – does it whiten teeth?
The answer is 'yes' and 'no'. It only will whiten teeth by removing the outside layer of tooth structure. Not a very holistic choice for whitening. It might be better to use it as a rinse instead of actually brushing it on your teeth. Just swish it around for a few minutes in your mouth and it will absorb the surface stains on your teeth. I have seen several patients whose teeth suffered erosion due to the overuse of  brushing with charcoal. Use with discretion.
Categories: Enlightened Dentistry, Detoxification
/