Shopping Cart
Your Cart is Empty
There was an error with PayPal
Click here to try again
Thank you for your business!
You should be receiving an order confirmation from Paypal shortly.
Exit Shopping Cart
The Brand Wellness Center - Enlightened Dentistry
A NATURAL HOLISTIC APPROACH TO DENTAL HEALTH AND WELL-BEING.
19 West 34th Street

Suite 1022

New York, NY 10001
| | |
| --- | --- |
| Posted on July 17, 2016 at 12:15 AM | |
When we think about probiotics, we automatically think of intestinal health. We know that intestinal health is a significant key to our healthy immune system, so it is important to maintain its integrity by eating fermented foods or regularly supplementing with probiotics.
But now we can look at the other end of the digestive system- the mouth. Most of us are already aware that the health of the mouth is a reflection of our bodily health. This has already been shown through conventional medicine with simple correlations of periodontal (gum) disease with coronary disease. Holistically, the meridian system (via Acupuncture) has shown that every tooth is correlated with a corresponding body part. (see Meridian Chart here)
With this in mind, maintaining a healthy flora in the oral cavity may be an important shield in preventing cavities, gum disease, bad breath and localized infections like the common cold or sore throat. The bigger picture is that it may save your life by preventing disease in distant outlying bodily organs.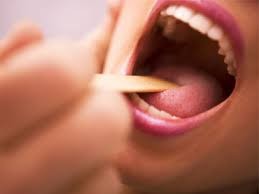 Friendly bacteria (probiotics) boost our immune system and hinder pathogens from binding to your body's tissues. Probiotics can also lessen the growth of pathogens by producing agents that make it harder for them to live and thrive. According to one dental study, probiotics also have properties that reduce inflammation, a benefit that curtails the harmful effects of pathogens. In addition, they can stimulate bone formation, which helps repair the bone that deteriorates from advanced forms of gum disease.
Improving the flora of the mouth is critical for improving overall health. The question is which probiotics to take.
• Streptococcus salivarius helps maintain normal oral pH, breaks apart biofilms that harbors germs, reduce inflammation by lowering inflammatory cytokines
• Streptococcus oralis and Streptococcus uberis have reported to inhibit the growth of pathogens both in the laboratory and animal models. They are indicators of healthy periodontium. When these bacteria are absent from sites in the periodontal tissues, those sites become more prone to periodontal disease.

• Streptococcus rattus adheres to teeth and gets below the gum line to crowd out undesirable bacteria that can cause cavities.
A combination of these probiotics will create a continuous low dose release of hydrogen peroxide that kills off harmful microorganisms and naturally whitens teeth.
For those of us who are looking for easy ways to improve our health, intake of daily probiotics for the mouth and gut is a simple routine to include for creating optimal well-being.
If you like this post, you may also like: Meridian Dentistry

Save
Save
Save
Categories: Enlightened Dentistry, Healing, Periodontal Disease
/